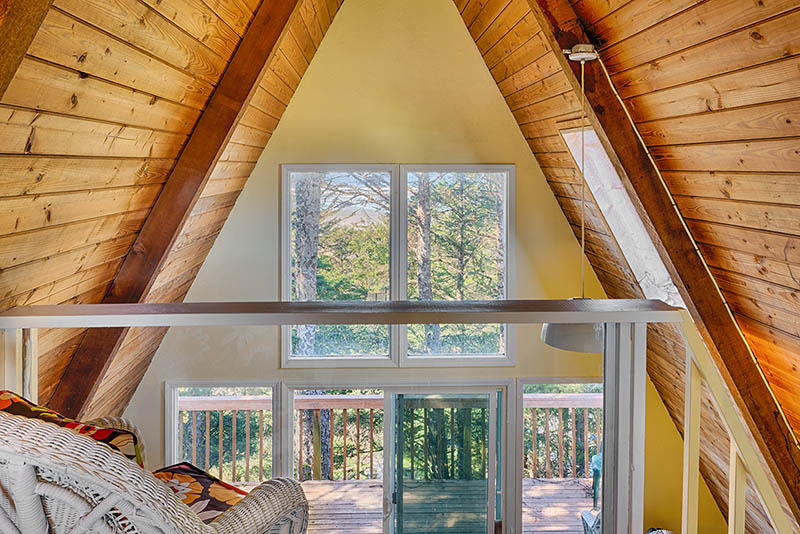 This cabin was love at first sight. It is not a giant mansion or a castle. It is not a high-tech modern villa.
Instead, Sea Sound Cottage is a cute, cozy, camp like location on a bluff just East of the Moclips beach. A true cottage in the perfect place for a true cottage. And if you like to dig Razor Clams you will be in seafood heaven.
Sea Sound Cottage
Much of the home has been updated and then furnished with comfortable furniture, new beds and bedding and everything to make it more homey than any old mansion or castle.
The kitchen has the pots, pans, knives, refrigerator, freezer, stove and oven, toaster and pretty much everything you need. Enough for a week or weekend stay. Plates and silverware too of course. Paper products are supplied.
There is television and internet if you really must spend time staring at a screen. But perhaps the children will prefer to walk to the beach (you do have to walk or drive). There everyone can jump the waves, search for shells or just stroll up and down looking for whatever the sea brings in.
What Guests Have to Say
"The place was great, gorgeous view, constant sound of crashing waves, well stocked and would recommend it to others."
- Beth
"Cute little cabin with a nice view!"
- Sasha
"Good place to stay if you are interested in checking out the area and hiking around."
- Hannah
More About Sea Sound Cottage
Sea Sound Cottage is affordable and that is not just a slogan. Families with kids can afford to stay for longer periods, or bring their pals along too.
Children will not feel pampered in a cottage, but they will see the wonder being so close to the trees on the western side of the house. There is a peak-a-boo view so you may want to spend hours just sitting on the deck listening to the sea sounds.
What if you want to do more things? Nearby is the gourmet Ocean Crest restaurant, or you can drive to Seabrook for food.
Venture further South to the bustling village of Ocean Shores where you will find yet more food, horse back riding, bowling, scooters, gift shops, book stores and more.
For the adults yes there some fun pubs and night light. Plus a Casino operated by our neighbors the Quinault Indian Nation. You can spend all that money you saved by renting the affordable Sea Sound cottage.!
But after all the fun, after seeing all the sights, it is fair to say you will appreciate the quiet, romantic sea sound cottage you may be even more delighted to arrived back at the comfortable, cozy and romantic cottage, where you can doze off listening to the Sea Sounds.
/
About Moclips
Booking one of our properties in Moclips? In this little community, you'll find an array of seaside activities for you and your friends/family to venture into.
Fly a kite in a contest, build a sand sculpture or go sea kayaking. There are numerous nearby state parks that are perfect for hiking, surfing or just an afternoon stroll along the beach.
During the Spring and Summer, you'll be able to bird watch or go crabbing. If it's warm enough, take a surfing lesson or go fishing so you can catch something for dinner later!
Visiting us during the colder months is perfectly okay too. There are beachside restaurants and museums between Moclips and Ocean Shores that will keep you busy while still being able to enjoy those stunning views
The By the Sea Promise
Here at By The Sea, By The Sea Vacation Rentals, we vow to make booking with us simple and exciting. We know that booking a rental property home for your vacation can be unfamiliar territory for some, while others know their way around it. Because we know this, we ensure that each of our properties are up to high quality standards.
We do our absolute best to provide support to our guests when booking.
We are available to assist you every day of the year if you have any questions or concerns before, during or after your visit to our home. We have onsite property management that are available 24/7 for anything concerning that may arise
Name: Sea Sound Cottage
Status: Active
Rating:

Type: Cabin
Country: United States
State: Washington State
Destination: Ocean Shores
Location: Moclips
Setting: Water Front Area
View: Peekaboo Beach View
Internet: Yes
Sq. Ft: 624
Floors: 2
Entrance Floor: 1
Bedrooms: 2
Beds: FTTL
Bunks: Yes
Baths: 1
Normal Occupancy: 4
Sleeps: 6
Max Occupancy: 6
Parking: 1
Pets: Dogs
Checkin: 05:00 pm or later
Checkout: 11:00 am or earlier
Website: SeaSoundCottage.com
Manager: By the Sea Vacation Rentals
BED CODE: K=King, Q=Queen, F=Full, T=Twin, C=Futon Couch, M=Mattress, A=Air Mattress, L=Sleeper, S=Sofa, U=Trundle Bed, D=Day Bed
Come see some of the best sunsets in the world from the living room and deck of this cozy cottage in Moclips.
Property
No Smoking Unit
Long Term Rentals Welcome Unit
Handicapped Access, None Unit
Child Friendly Unit
Balcony Unit
Full Size Bed Unit
Sofa Bed Unit
Twin Bed Unit
Twin Bed Unit
All Dogs Allowed Unit
Hanging Swag Lamp Unit
Iron Chairs Unit
Lamp Unit
Ocean Front Location Area
Patio Lounge Chairs Unit
Nightstand Unit
Single Car Parking Unit
Minimum Rental Age is 25 Unit
Smoke detector Unit
CO2 Detector(s) Unit
Full Kitchen Unit
Radiant Propane Floor Heating Unit
Smoke detector(s) Unit
View
Starry Starry Nights Unit
Partial Beach View Unit
Full Forest View Unit
Full Beach View Unit
Kitchen
Coffeemaker Unit
Cooking Wares Unit
Electric Skillet Unit
Paper Towels Unit
Glassware Unit
Plateware Unit
Flatware Unit
Spices Unit
Pots & Pans Unit
Cooking Range Unit
Refrigerator - Freezer Unit
Microwave Oven Unit
Bath
Basic Soaps Unit
Cleaning
Cleaning at Departure Unit
Daily Cleaning Available Unit
All Linens Provided Unit
Convenience
Self Service Accommodations Unit
Family Friendly Unit
Unreliable Mobile Phone Coverage Unit
Catholic Church Area
Post Office Area
Kitchen Table Unit
Free Parking Unit
Services
Convenience Store Area
Grocery Store Area
24 Hour Assistance Telephone
Entertainment
Television Unit
Satellite TV Unit
Activity
Bird Flyways Unit
Backcountry Outfitters Unit
Hiking Trails Area
Big Game Hunting Area
Bird Hunting Area
Beach Combing Unit
Biking Area
Birding Area
Business
High Speed Wireless Internet Unit
Telephone Unit
Sports
Hiking Area
Freshwater Fishing Area
Saltwater Fishing Area
Laundromat Area
Scooter Rentals Area, 16 to 20 Miles
Attraction
Tavern Area
Museums Area
Rain Forest Area
Special Events Area
Scenic Driving Area
Churches Area
Bathroom
Shower Unit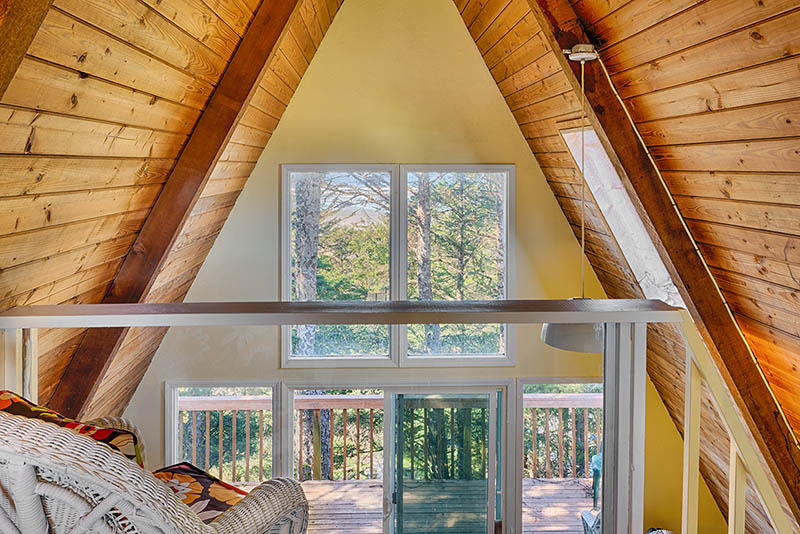 Review from Wes
The location and proximity to the beach were very good
We enjoyed our stay here
Review from
Email Manager
Already a member? Click to login
Not a member? Request info below
Say you saw Sea Sound Cottage Cabin (921) on SeaSoundCottage.com
Close
Safety and Cleanliness Are Nothing New To Us
We started booking properties in 1964, and they have been diligently cleaning and sanitizing properties all along. Having weathered the 9-11 tragedy and the 2008 economic recession, we know that this too shall pass. Our plan is always to provide great holidays for each and every guest.
Happy Hospitality Housekeeping
Cleaning is not as easy as you some may presume. Properties have always been cleaned top to bottom, using quality sanitation products. (Read more)
Plan for the Future
You can still plan ahead for the rest of the summer, for events and even for winter holidays. Many homes have available dates at good rates. Plan now to find the best vacation. (Read more)
Long Term Rentals
Even in areas where vacation lodging is discouraged, through our affiliate Prospera VIP property managers, homes are available for longer term rentals (more than 30 days.) A great way to get away permanently!
Property Care for Owners
If you need help with your property - even temporarily - call us today. We are locally owned, personally professional and globally advertised. Our warrior like staff can help with housekeeping, maintenance, advertising and booking on short notice. We provide maximum income with minimum fuss. (Read more)
Stay Safe. Stay Local.
Phone: 866-925-7086